By Lida Shepherd, American Friends Service Committee – WV Economic Justice Project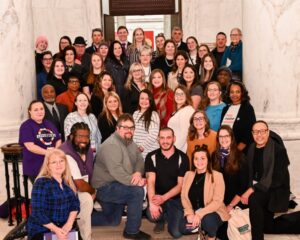 We started the 2023 legislative session with an incredible Leading for Justice Summit and Day of Action.  Here are some of the beautiful faces of people who are working for justice with passion and persistence.  They are walking the halls, meeting with lawmakers, and testifying in committee about pressing issues that people impacted by the carceral system are facing every day. 
And now with the legislative session in full swing, here is a brief rundown of bills that we are watching. 
Good bills we are pushing:
Bill # – Short description (committee references)
Bad bills*
*this is not an exhaustive list.  There are many bad bills that have been introduced that would enhance penalties however these are ones that are either really bad and/or we anticipate moving.
IN THE NEWS:
Speaking truth to power – Kimberly Burks, mother of Quantez Burks, challenged Governor Jim Justice at a town hall last week at Tamarack, demanding answers for why so many people including her son are dying at Southern Regional Jail.
As another reminder of the human gifts that a brutal and violent carceral system is robbing from communities and from families every day, take a look at some of Tyre Nichols photography. Tyre Nichols was brutally beaten and killed by police officers in Memphis earlier this month.  As reported by the Associated Press, an average of three people a day are killed by police officers.  These deaths are not aberrations, they are endemic.  Which is why it's critically important we continue to take action together!   
Upcoming opportunities to TAKE ACTION at the Capitol:  
Finally, a friendly reminder that any day you would like to come work the halls with us, we will help set up a meeting with your legislator and familiarize you with the process.  And as soon as we need calls or emails on a bill, we will be so grateful for you to answer the call.
Thank you for reading!