As we go to press the House Education and Judiciary Committees are preparing to take up a number of bills that in a sane and rational world wouldn't be taking up time better spent addressing real issues affecting our state. 
The House Education Committee has SB 130, the Anti-Racism Act of 2023, on its agenda. This was one of the bills the Senate suspended rules to pass on the first day. It appears to be toned down from last year's version, but still problematic and could have a chilling effect on how teachers handle topics dealing with race and slavery in particular. 
The entire House Judiciary Committee agenda is based on conspiracy theories, hate and fear mongering. Here's a look. 
HB 2004

– Prevent the use of payment card processing systems for surveillance of Second Amendment activity and discriminatory conduct

HB 2008

– Requiring local entities to enforce immigration laws

HB 2007

– Prohibiting certain medical practices
HB 2007 is the bill that would ban physicians from providing gender-affirming surgery to minors. 60 Days has a preview of the controversies legislators are wading into under the dome.
UPDATE: The Judiciary Committee advanced HB 2008 and 2007. More here (paywall) and here. These bills are now headed to the House floor. SB130 cleared the Education Committee without amendments and sent it on to the Judiciary Committee.
Keep reading for more on what is, or isn't happening, as the case may be, along with calls to action from various partners and allies. 
---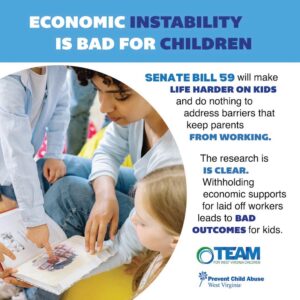 Blame the Unemployed Bill Advances
On Monday, the Senate passed and sent to the House SB 59, which is supposed to 'fix' our unemployment system and get people back to work sooner by making it harder to collect unemployment. 
See the message below from the Legislative Action Team for Children and Families and take action NOW to protect your unemployment benefits!
Essential workers were championed throughout the pandemic for their critical jobs keeping our economy afloat. But now WV Legislators are considering gutting unemployment benefits for those very same workers if they lose their jobs through no fault of their own. 
SB 59 would cut the number of weeks that laid off workers are eligible for unemployment insurance from 26 weeks to as few as 12 weeks. This action would make West Virginia a major outlier compared to other states. The bill also increases the red tape and bureaucratic hoops workers who lose their jobs have to jump through. 
Senate Bill 59 endangers economic security and peace of mind for workers, children, and families, while also harming our state's economy and doing nothing to address lawmaker's stated goals of getting West Virginians to work.
Take action here: https://www.votervoice.net/TeamWV/Campaigns/91647/Respond 
---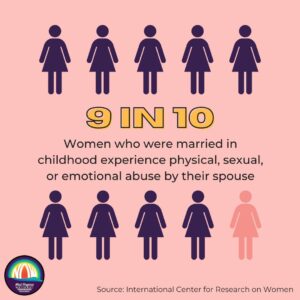 Bill to End Child Marriage Needs Support
Our friends at West Virginia NOW are working to pass a bill eliminating child marriage in West Virginia. West Virginia is one of only 8 states that has no minimum legal age for marriage. Since 2000, over 3,600 WV children have been married; 94% of those were girls — some as young as 14 — being married to adult men. These children face increased risk of domestic violence and worsened health, economic and educational outcomes. Equally as concerning is the fact that child marriages can hide or legalize statutory rape and human trafficking. WV NOW is working alongside a bipartisan group of lawmakers to pass SB 158 and HB 3018 to remove the exceptions in code that allow for this human rights abuse. West Virginia legislators need to hear from you to prioritize this piece of important legislation. Please contact your delegate and senators to ask them to support a ban on child marriage in West Virginia.
For more information contact westvirginianow@gmail.com or visit their Facebook page.
---
(Ab)use of American Recuse Plan Act Funds
Federal coronavirus relief funds from the American Rescue Plan Act (ARPA) are supposed to be used to address needs of those most impacted by the pandemic. The Tuesday Morning Group has a plan supported by CAG and others, which proposes using a portion of these funds to address long-standing disparities in health care and economic opportunity in minority and low-income communities across West Virginia. Addressing these disparities is long overdue, and the Tuesday Morning Group proposal would address them through common sense investments in education, job training, economic development, housing rehabilitation, programs to support at-risk youth, and initiatives to improve rural and community health access. 
Instead of investing in our people, the Governor wants to divert $500 million of the $678 million remaining funds to the state Economic Development Authority. Cash handouts to corporations not allowable use for ARPA funds. CAG has joined the TMG, the NAACP and others to request a public hearing on this questionable use of these funds as proposed in HB 2883 and give the citizens of West Virginians an opportunity to weigh in on how they should be spent to help our communities. Black By God an article here and other background stories. On Friday, Rev. Matthew Watts, a Charleston pastor and convener of the TMG gave a presentation to the Senate Workforce Committee where he was able to make the case for using ARPA funds to improve housing, health, workforce, economic and social service coordination. More to come on this.