Charleston Area Friends, 
Early voting for the primary election is underway. Join local community, civic, religious, and panhellenic groups for a Stroll to the Polls.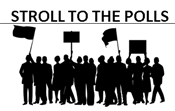 SATURDAY, APRIL 30TH & MAY 7TH at NOON
KANAWHA COUNTY COURTHOUSE STEPS
Voters will gather at noon at 409 Virginia Street East, Charleston, WV 25301 for a group picture then STROLL to the County Voter Registration Office at 415 Quarrier Street, Charleston, WV 25301 to cast their ballots.       
LET'S SHOW UP TOGETHER AND VOTE!
Can't join us on Saturday? Know your options and make a plan to vote. 
Important Primary Election Dates and Information – More information at GoVoteWV.com
---
Also please join WV CAG and partners for a Candidates Forum on Tuesday, May 3, 6-8pm at Grace Bible Church, 600 Kanawha Blvd. West, Charleston, WV 25302. Candidates for various City of Charleston and Kanawha County offices have been invited including candidates for Mayor, City Council, Municipal Judge, City Treasurer, County Commission, County Clerk, Board of Education, and Conservation District Supervisor.