MEDIA ADVISORY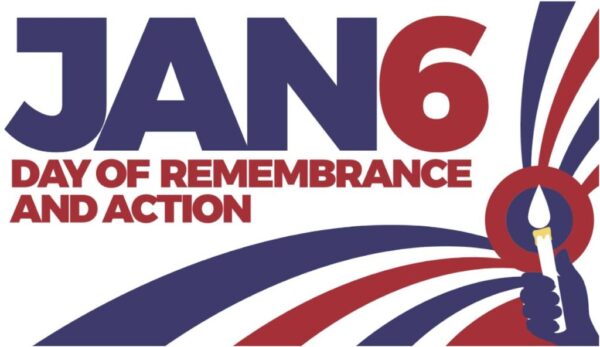 A YEAR AFTER JANUARY 6 ATTACK ON U.S. CAPITOL, WEST VIRGINIANS DEMAND ACTION TO PREVENT ANOTHER ATTACK ON OUR DEMOCRACY
Virtual Remembrance Vigil on Jan 6th Among More than 175 Events Across the Country 
Charleston, WV— January 6, 2022 marks one year since a faction of elected officials incited armed right-wing militants to attack the U.S. Capitol. 
Following the attack, and even in the immediate face of such egregious acts of violence, West Virginia Congressional Representatives Alex Mooney and Carol Miller objected to and voted against the certification of the Presidential election results. Mooney and Miller also opposed the creation of an independent commission to investigate the January 6th attack. Additionally, Mooney continued to make irresponsible public statements against the democratic process.
In West Virginia, a month prior to the attack, Secretary of State Mac Warner spoke, chanted and held "Stop the Steal" signs on the State Capitol grounds while continuing to spread the false narrative that the Presidential election was stolen. These events fueled the insurrection and perpetuated the lies about the 2020 election. 
During the 2021 legislative session, Warner supported a bill introduced by Republican lawmakers that would have eliminated the most popular days of Early Voting, gutted automatic voter registration and started the process of removing voters from rolls after two years (instead of four) if someone hasn't voted.  
One year later, the same faction is working to restrict the freedom to vote, attacking fair voting districts, and quietly preparing future attempts to sabotage free and fair elections. 
On Thursday, January 6, 2022, Americans across race, place, party, and background are holding candlelight vigils to say: In America, the voters decide the outcome of elections. To prevent this kind of attack from happening again, advocates are demanding that elected leaders pass urgent legislation including the Freedom to Vote Act, the Protecting Our Democracy Act, and the John Lewis Voting Rights Advancement Act. This event in Charleston is one of more than 175 events that will take place across the country, including at the U.S. Capitol. 
At this virtual event, speakers from diverse backgrounds will share their perspectives on the events of January 6, 2021 and why it's critical that our elected leaders take action to prevent future attacks on our democracy and attempts to subvert the will of the voters, protect our freedom to vote and ensure that all Americans have equal access to the ballot ahead of the 2022 elections.
Speakers will include: Rev. David Fryson, Founding Vice President of the West Virginia University Division of Diversity, Equity, and Inclusion and Pastor at First Baptist Church of Kanawha City; Natalie Tennant, former WV Secretary of State; Councilwoman Becky Cain Ceperley, League of Women Voters National President (1992-1998) and member of Charleston City Council;Wes Holden, US Army Veteran and former Deputy State Director for U.S. Senator Jay Rockefeller; Ivin Lee, former Chief of the Dunbar Police Department and retired officer with the Charleston Police; Howard Swint, commercial real estate broker in Charleston and concerned citizen; Lakiesha Lloyd, US Army Veteran; Zach Shrewsbury, U.S.M.C Veteran; others TBD
WHO: WV Freedom to Vote Coalition, a coalition of organizations and concerned West Virginians representing veterans, young people, small business owners, faith leaders and current and former elected officials.   
WHERE: Online Link: https://us02web.zoom.us/webinar/register/WN_vOZtJlLNT5mcf1mxrI-ybA
WHEN: 5:00pm, Thursday, January 6th, 2022
CONTACT: Katie Blount, katie@wvcag.org, (859) 489-6528
###