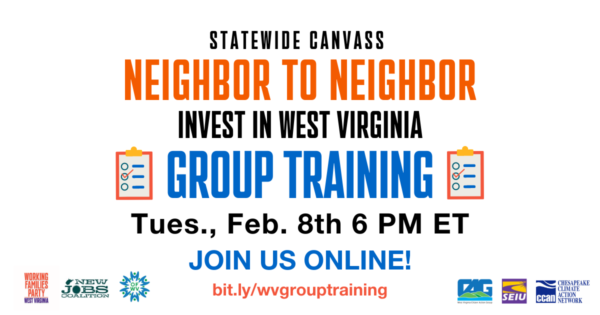 Since March of 2021, the WV New Jobs Coalition has been working hard to educate and empower West Virginians in the areas of Climate/Environment, Jobs, Unions, Democracy and Care, and to share why essential parts of the Build Back Better plan are so very needed. As part of our outreach into the community, multiple canvassing techniques have been utilized, the most effective of which has been Deep Canvassing.
Deep Canvassing "is a method to elicit emotionally significant experiences and encourage reflection. Canvassers use active listening to build trust" so participants feel more comfortable sharing their personal stories and exploring new perspectives. It is the most effective way to listen to members of our community, release the emotional charges behind certain topics, and create an opportunity for open, honest discussion. It is the best way to help heal the divide in our state, and move perspectives.
Our goal for February is to host a day of deep canvassing dedicated to Investing in West Virginia 
Why are we doing this? Well, we want to find out about the issues that are most important to West Virginians. To do that, we need to talk with them, listen to them, and rebuild trust while reaching across the divide. 
Our thought: West Virginians have earned every piece of Build Back Better. They need to know this, and be empowered to make that call to Senator Manchin, asking him to change his stance on BBB and again support it.
But, we need your help to make it happen, and the help of all our neighbors.
BE A PART OF THIS MOVEMENT TO HEAL WV!
If you want to be a part of healing our state and engaging in real, deep conversation with our neighbors, join us for a virtual Group Training session on February 8th from 6-7:30pm. We'll be training our canvassers in preparation for our Neighbor to Neighbor: Invest in WV statewide event on February 12th.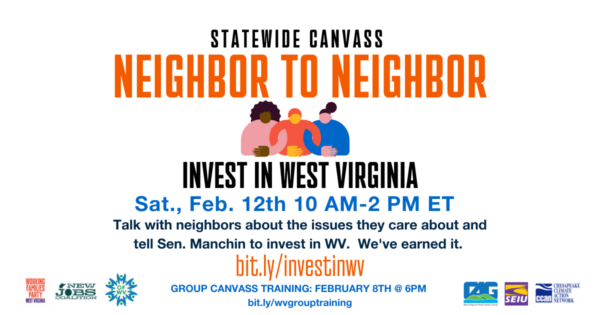 Statewide Canvass Locations
Charleston: 1500 Dixie Street, Charleston, WV 25311

Huntington: 501 5th Avenue, Huntington, WV 25701

Beckley: 2 Crossroads Mall, Mt Hope, WV 25880

Eastern Panhandle: Dairy Queen in Ranson, 109 S Mildred St, Ranson, WV 25438

Morgantown: Marilla Park Shelter, 799 E Brockway Avenue, Morgantown, WV 26501 Marilla Park Shelter
We look forward to seeing you tomorrow evening, and to moving hearts and minds in WV.