For Immediate Release: November 12, 2021
CONTACT: Sally Roberts, sallyrobertswilson@gmail.com, 304-549-3623
                   Julie Archer, julie@wvcag.org, 304-610-9094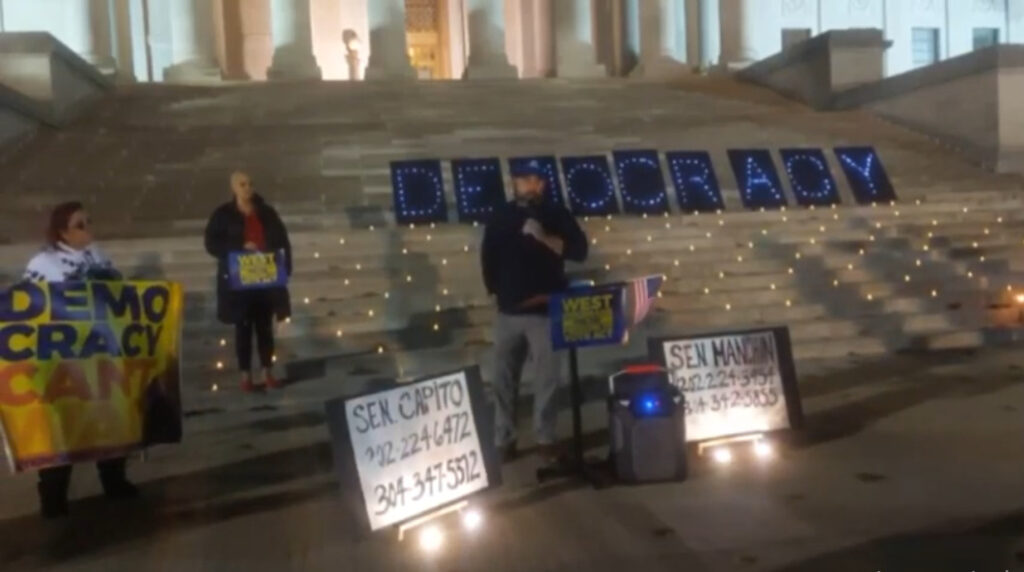 WV Advocates Host Vigil to Demand Passage of the Freedom to Vote Act
Charleston residents gathered at the State Capitol to urge Senator Manchin to deliver transformative voting rights legislation to the American people before it's too late
Charleston, WV — After Senate Republicans blocked another voting rights bill, community members and organizations hosted a "Freedom to Vote: Time to Act!" vigil at the State Capitol on Wednesday, Nov. 10, to demand that the Senate pass the Freedom to Vote Act. This event in Charleston was held in partnership with the Declaration for American Democracy as part of a nationwide week of action calling on Congress to set national standards to ensure that all Americans have equal access to the ballot ahead of the 2022 elections. 
Video of the event can be viewed at https://youtu.be/_DAQF1j1sP8.
The need for the Freedom to Vote Act to become law is urgent: Extremist state legislators spent the last year putting up barriers to voting in one state after another and are now drawing districts to benefit themselves, carving up communities, and attempting to drown out the voices of millions of American voters for the next decade.
With the 2022 midterm elections quickly approaching, it's critical that the Senate and President Biden take action to protect our freedom to vote and to realize the promise of democracy for all. 
Speakers at Wednesday's event included Katonya Hart, Emcee and member of WV NOW; Reverend Darick Biondi, Faithful Democracy; Josh Sword, WV AFL-CIO President; Deborah Ujevich of WV Family of Convicted People; Rick Wilson, American Friends Service Committee, WV Economic Justice Project; Sally Roberts Wilson, Rise Up WV and Kathy Ferguson, Our Future WV. 
The event featured a light display spelling out "DEMOCRACY" and activists holding signs and tea lights. Courtesy photos can be found here. 
Please contact Julie Archer or Sally Roberts to arrange interviews with speakers and participants. Quotes from various speakers are available here.
###