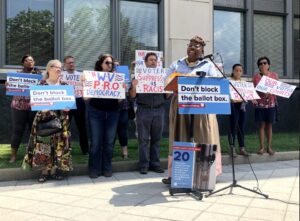 The WV NAACP, Our Future WV, WV Working Families Party, and the WV Citizens for Clean Elections coalition invite you and your organization to join us and the Declaration for American Democracy in the movement to pass the For The People Act (HR 1) and the John R. Lewis Voting Rights Act (HR 4) to protect and strengthen the sacred right to vote and return the power of our democracy to the people.
Join us on Saturday, January 16 at 7 PM for a virtual We Demand Democracy town hall to learn more and hear from our panelists about how these reforms will eliminate challenges to our right to vote, increase access to the ballot and transform our democracy into one that reflects the needs of West Virginia residents and all Americans.
Use this link to register: 
HR 1 is a once-in-a-generation democracy reform package to clean up our political system, expand and protect voting rights, end gerrymandering, and counter the power of big money in politics. HR 4 would restore and update the full protections of Section 5 of the Voting Rights Act of 1965 (VRA) — the most effective civil rights legislation in the history of the United States.
Making pro-democracy reforms a first priority is the key to making progress on all the other pressing policy issues facing our country. We have the opportunity to enact change – and we must do so together.