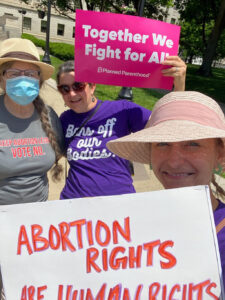 In December, the US Supreme Court heard oral arguments in Dobbs v. Jackson Women's Health Organization, the first case that the Supreme Court has taken in which a state is directly calling upon the Court to overturn the constitutional right to abortion established in Roe v. Wade. The final ruling in the case will determine whether every American has the ability to make the personal — and intensely private — decision about whether or not to become a parent, potentially throwing out a 48-year-old precedent protecting reproductive freedom for millions of Americans. 
This moment is the culmination of a decades-long takeover of the federal judiciary by right-wing billionaires, corporate special interests, and dark-money groups that have spent tens of millions to capture the Court. These forces that have made it clear their agenda is to reverse important legal precedents that we rely on to protect our rights and freedoms and it is terrifying.
This is a pivotal moment for the U.S. Supreme Court to demonstrate that it decides cases based on precedent and rule of law, not politics or ideology. It remains to be seen whether it will. 
On May 2, Politico shared a disturbing leaked draft opinion in the Dobbs case, which appears to overturn Roe v. Wade and Planned Parenthood v. Casey. However, until we actually see an official final opinion, Roe is still the law of the land. Everyone must know that abortion is still legal in the United States and West Virginia — and we must fight to keep it that way.   
The right to decide if or when to have a child is essential to a person's ability to make highly personal decisions about their bodies and their futures. It is essential for social, economic, and racial equality in this country. 
As we await the final ruling in June, our friends at the ACLU of WV have put together a list of things you can do to support abortion rights and access in West Virginia, and prepare for this continued fight for reproductive justice and our ability to live with autonomy, dignity, and equality.