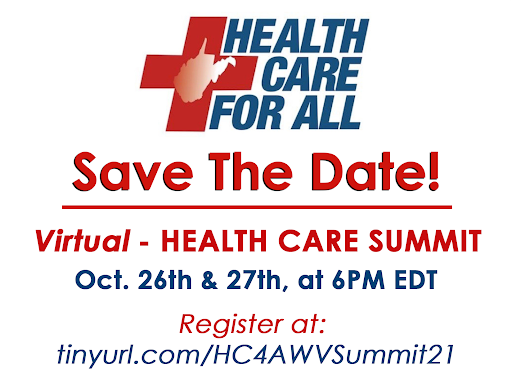 By Kim Jones and Eve Marcum-Atkinson
Summer Successes
On July 30th, in honor of the anniversary of the passage of both Medicare and Medicaid, Our Revolution hosted a Medicare Expansion Rally, in partnership with Health Care for All WV and WV Citizen Action Group. The goal: to bring awareness to the benefits of allowing Medicare to negotiate with drug companies for lower prices – just like the Veterans Administration has been doing for years. This reform will save seniors and taxpayers billions in Rx costs!
Additionally, West Virginians for Affordable Health Care, Health Care for All WV, WV Citizen Action, and WV Navigator hosted a series of health insurance enrollment events throughout the summer. Together, we helped West Virginia families find out more about their health care coverage options, and helped many gain coverage! The next national open enrollment period for the Affordable Care Act begins on November 1, 2021 and runs through January 15, 2022 in most states.

Legislative Health Care Policy Agenda
Sept. 27th through Oct. 6th, Health Care for All WV participated in West Virginians for Affordable Health Care's 2021 Medicaid Summit Series, which concluded this week. We were excited to be a part of this series, and we were able to launch our 2022 Legislative Health Care Policy Agenda! It builds on the successes of the last two years of our campaign, like lowering the cost of co-pays for insulin, getting adults on Medicaid dental coverage, extending postpartum coverage on Medicaid from 2 months to 12 months, and working on keeping Telehealth as an option for people in the state. This year we will be working on issues like Lowering Prescription Drug prices, Health Equity, Paid Family Leave, Home Healthcare, a Medicaid Buy-In and more.

Virtual Health Care Summit 2021
On October 26th and October 27th, we will host our own Virtual Health Care Summit, where we will go over our policy agenda in detail. We will also have a panel of experts discussing critical healthcare issues for West Virginians. Please join us to learn what you can do to help West Virginia work towards a healthier future.
Register in advance for this webinar at tinyurl.com/HC4AWVSummit21 or here: https://us02web.zoom.us/webinar/register/WN_3C1UQj01R5ytaYWPBf1Z3g
More Capital Eye V14/N12 Articles: