We know how important it is for Senator Manchin to hear continued support on climate, care, and justice investments from West Virginians. So, we're inviting you to participate in a statewide, neighbor-to-neighbor canvassing day of action on February 12th!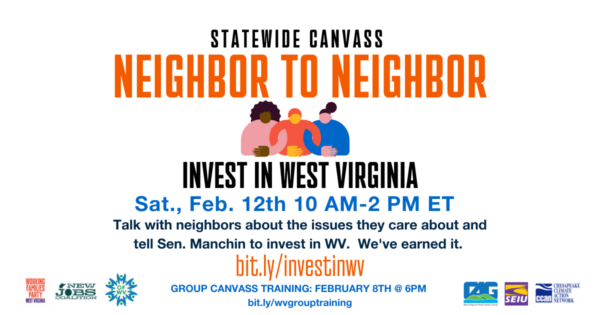 Since the end of December, more organizations in our state have publicly supported the investments in the Build Back Better Act. Senator Manchin has also expressed willingness to support many parts of the bill. 
Here's some of what we think is still possible to win: 
Universal pre-K

Lower prescription drug costs

Good clean energy jobs

Funding to programs that directly benefit miners suffering from Black Lung disease
We know that Senator Manchin has a lot of power in Congress. Taking action together on one day, we can make sure that he hears and sees us loudly and clearly. 
Statewide Canvass Locations
Charleston: 1500 Dixie Street Charleston WV 25311
Huntington: 501 5th Avenue Huntington WV 25701
Beckley: 2 Crossroads Mall Mt Hope WV 25880
Eastern Panhandle: Dairy Queen in Ranson
109 S Mildred St Ranson WV 25438
Morgantown: 799 E Brockway. Avenue Morgantown 26501 Marilla Park Shelter
You can sign up here to join a canvass launch on February 12th. 
If you would prefer to connect with West Virginia voters by phone, you can also join our volunteer phone bank using link: Volunteer Phone Bank 2/12/22