Tag: Trade agreements
5 posts found
Action Alert
,
Newsletter
April 2, 2017
Crossover Chaos! – The Capitol Eye Legislative Update for April 2, 2017
As mentioned last week, Wednesday the 29th was crossover day so the legislature worked through last weekend, started early mornings, and met late into the evenings to get as many of their must pass bills over to the other side. One notable 'hail-Mary' passage of a bill was SB 386, the Medical Cannabis bill that was taken up in the final Judiciary meeting and passed out of the Senate during the last floor session.

More
Issues: Aboveground Storage Tanks, Budget priorities, Education, Fair taxation, Fast track, Healthcare, Our children our future, Pollution, Poverty, Right to work, SNAP, Trade agreements, Water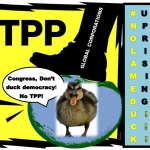 Action Alert
Ciera Pennington
September 2, 2016
Fight the TPP!
President Obama recently gave notice to Congress that he will introduce Trans-Pacific Partnership (TPP) implementing legislation to ratify the TPP this fall, though it is still uncertain if he can pull together the votes he needs. We must give notice to Congress that we aren't going to let that happen.

More
Issues:
Trade agreements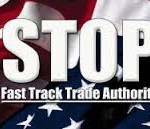 Action Alert
June 11, 2015
Not so Fast Track!
Call Congress today to oppose Fast Tracking the TPP (Trans Pacific Partnership treaty): 1-888-966-9836. The TPP has been negotiated in total secrecy with lobbyists of the trans-national corporations and is much more than the simple "Free Trade" deal it's being promoted as.

More
Issues: Fast track, Trade agreements, Workers