Tag: Climate Justice
13 posts found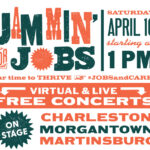 Action Alert
Alexandra Gallo
April 2, 2021
Jammin' For Jobs – Free Concert – April 10th
This event will bring Joy To The People through music, art, culture, and story-telling in Charleston, Morgantown, and Martinsburg, WV, while bringing to light how the THRIVE Act will benefit West Virginians, including 50,000 new jobs a year, and $5.2 Billion Dollars invested in our state.

More
Issues: Clean Energy, Climate Justice, Energy efficiency, Inequality, Infrastructure, Jobs, Living wage, Poverty, Racial Justice, Social Justice, Sustainability, Workers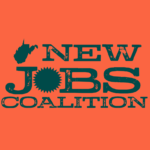 Press Release
Gary Zuckett
March 31, 2021
Report Just Released – THRIVE Agenda Would Create 50K New WV Jobs!
A new coalition of labor, economic justice, and environmental groups announced the formation today of the WV New Jobs Coalition with the release of a jobs report by the PERI Institute at U of Mass. that estimates a gain of 50,000 new jobs would be created in WV from the enactment of the THIRVE agenda, soon to be introduced in Congress. 

More
Issues: Clean Energy, Climate Justice, Economy, Energy efficiency, Inequality, Jobs, Racial Justice, Social Justice, Sustainability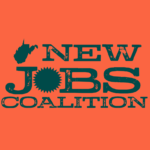 Press Release
Eve Marcum-Atkinson
March 29, 2021
PRESS ADVISORY: West Virginia Working Families Party, WV Citizen Action Group, and Sierra Club Announce Formation Of 'WV New Jobs Coalition'
On Wednesday, March 31st at 10 AM, West Virginia Working Families Party, WV Citizen Action Group, Service Employees International Union, Sierra Club, and others will hold an online press conference announcing the formation of the "WV New Jobs Coalition", the release of the WV New Jobs report and announce ten days of action April 1 - 10, calling on Sen. Manchin and Sen. Capito to support the THRIVE ACT. 

More
Issues: Agriculture, Clean Energy, Climate Justice, Health Care, Infrastructure, Jobs, Living wage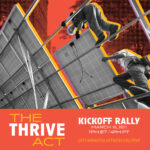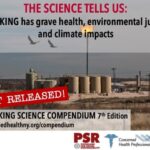 Action Alert
CAG
February 2, 2021
FEB 18 @ 7PM – Dr. Sandra Steingraber webinar on the Risks and Harms of Fracking
Free, live, public lecture by Dr. Sandra Steingraber on Thursday, February 18, 2021, from 7:00-9:00 p.m. EST.  Hosted by Mid-Ohio Valley Climate Action, with co-sponsors FaCTOhio/The Ohio Health Project, West Virginia Rivers Coalition, West Virginia Citizen Action Group and made possible with generous funding from the Dunn Foundation and our donors, Dr. Steingraber's lecture will include findings from the recently released 7th edition of The Compendium of Scientific, Medical, and Media Findings Demonstrating Risks and Harms of Fracking, a fully referenced compilation of evidence outlining the risks and harms of fracking. 

More
Issues: Climate Change, Climate Justice, Environment, Fracking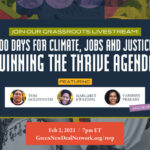 Action Alert
Alexandra Gallo
January 29, 2021
FEB 2nd @ 7PM: 100 Days for Climate, Jobs and Justice – grassroots livestream on the THRIVE agenda
This Tuesday, February 2nd, at 7PM Eastern / 4PM Pacific, the Green New Deal Network will host a grassroots livestream: "100 Days for Climate, Jobs, and Justice: Winning the THRIVE Agenda." We hope you can join.

More
Issues: Climate Change, Climate Justice, Environment, Inequality, Jobs, Living wage, Pollution, Poverty, Racial Justice, Sustainability, Water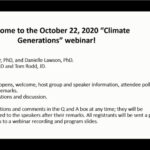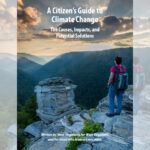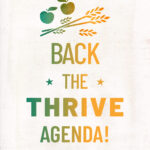 Citizen Action Group Blog
Gary Zuckett
September 10, 2020
WV Groups support national THRIVE Agenda released in Congress today
A coalition of grassroots groups, labor unions, Black, Brown and Indigenous leaders from across the nation, and members of Congress today announced the introduction of a bold plan for economic renewal known as the THRIVE Agenda. THRIVE — Transform, Heal, and Renew by Investing in a Vibrant Economy — was introduced today in Congress.

More
Issues: Climate Justice, Covid-19, Economy, Healthcare, Inequality, Racial Justice, THRIVE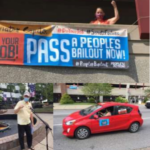 Newsletter
CAG
August 4, 2020
Capital Eye Vol. 13 No. 10 – Summer 2020
Since mid-March, WV CAG has worked with partners and allies to provide a local, state, and federal response to the pandemic, and communicate to our governor, DHHR, and other state and local officials what regular folks really need to get through this crisis. You make this and all of our work possible. Thank you! Keep reading to learn more about other projects we're focused on and ways you can keep this work going and growing.

More
Issues: Clean elections, Climate Justice, Democracy, Environment, Healthcare, SNAP, Unemployment benefits, Voting Rights, Workers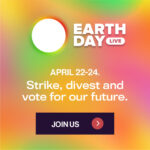 Action Alert
Gary Zuckett
April 22, 2020
Earth Day 2020: Strike, divest, and vote for our future
This year, on the 50th anniversary of Earth Day, we're taking action online at a scale the climate movement has never done before. On April 22-24, millions of people around the world are going online for a three-day mobilization to stop the climate emergency. Activists, performers, influencers, and thought leaders are coming together to host a 3-day digital event full of teach-ins, performances, and more. Click here to find out more.

More
Issues: Climate Justice, Energy, Inequality, Our children our future, Pollution, Sustainability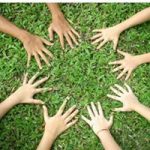 Action Alert
December 21, 2019
Power to the People: TWO Grassroots Trainings Coming in 2020!
We're excited to announce TWO days of powerful training, networking and campaign strategy planning in February 2020, hosted by a coalition of state and local organizations in WV. These events are especially for people involved in local grassroots groups and local campaigns, or people who want to be. But all are welcome! Scholarships are available. Learn more below, and register for either or both event days here.

More
Issues: Climate Justice, Democracy, Elections, Environment, Event, Healthcare, Training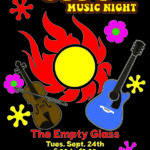 Action Alert
September 21, 2019
Charleston Events You Don't Want to Miss
Two Charleston events you don't want to miss! On Tuesday, September 24, help out WV Citizen Action while enjoying music and friends. Join us for a night of live, local music to benefit WV Citizen Action Group featuring That High Country Revival with special guests Chet Lowther, Trey Kay, Andy Park, and more. On Thursday, September 26 take part in a public rally during Climate Strike week to show our elected officials that we want meaningful climate action now! Details here.

More
Issues: Climate Justice, Environment, Event, Sustainability