Recent Newsletters  (Newsletters from 2001-January 2014 are available in the html archive)
29 posts found, showing 20 per page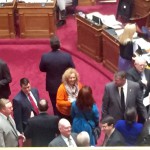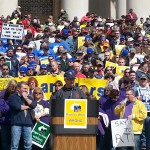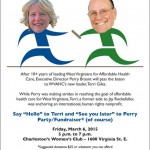 March 2, 2015
Newsletter
ian
Week 7: Too Much Freedom?
Too Much Freedom?, WV: No Place for Hate, More Money in Elections = Transparency & Accountability?, Bill that would hurt the solar industry is on Governor Tomblin's desk, Recycling bill moves to the Senate floor, The Barrage of Bills against Women's Reproductive Rights Continues, Five days to life West Virginia truancy laws, Update on Tank Bill
Issues: Clean elections, Healthcare, Net metering, Recycling, Water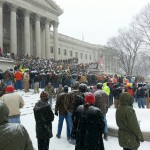 February 22, 2015
Newsletter
ian
Week 6: Over the Hump
War on Workers, Drug Testing for TANF Recipients, APRNs Need Autonomy, More Freedom for Milk, Hemp and Compassionate Cannabis, Pro-Life and Pro Death, LEEP Bill Moving, Constitution Under Attack, Another Attack on Women's Medical Care, Threats to Both Air AND Water, Recycling Alert Update.
Issues: Budget priorities, Energy efficiency, Healthcare, Living wage, Recycling, Right to work, Water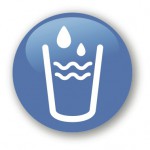 February 15, 2015
Newsletter
ian
Week 5: Halfway
Thursday was the halfway point in this session and we are fast approaching the last day to introduce bills in the Senate (Monday, February 23) and House (Tuesday, February 24). So far 1,243 bills have been introduced. The week started with a great press conference on protecting our water with speakers from WV Environmental Council member groups, the WV Council of Churches, and Charleston NAACP - all calling for keeping our drinking water clean and safe, and opposing legislation to roll back protections. Our water warrior, Karan Ireland, moderated the event and gave a strong personal testimony to kick it off.
Issues: Civil Justice, Energy efficiency, Event, Living wage, Water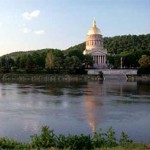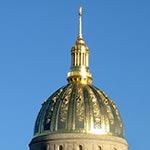 January 24, 2015
Newsletter
Julie Archer
Week 2: Net Metering Saved, Action Needed on Energy Efficiency
This Friday is the tenth day, and the first full week of the 2015 legislature. On Monday, the Martin Luther King, Jr. State Holiday Commission's celebration was held at Asbury United Methodist Church ending with a march at noon to the Capitol and the ringing of the liberty bell. The same day, the West Virginia Education Association held a rally for teachers and UE (United Electrical Workers) Local 170 rallied with the state workers they represent.
Issues: Budget priorities, Civil Justice, Energy efficiency, Healthcare, Kids and families, Net metering, Water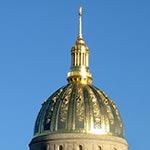 January 16, 2015
Newsletter
Karan Ireland
Week 1: Join Us for MLK, Jr. Day & Other Upcoming Events
The 2015 WV Legislature opened Wednesday evening with Governor Tomblin's State of the State Address exhorting the legislature to work "together" for the betterment of our citizens. Meanwhile, the Senate introduced 232 bills and the House total was 56. These range from allowing raw milk to be sold to allowing folks to carry a concealed gun without a permit. It's comforting to know the majority of these will never get out the other end of the legislative sausage grinder. It's scary to contemplate the ones that might make it along with the few we'd like to see pass.
Issues: Clean elections, Energy efficiency, Net metering, Water